W
hat good is a fantastic Web site if no one knows about it? The following Web site promotion services are available to all new and current clients: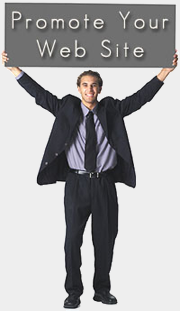 - The process of improving the traffic to a web site from search engines via "natural" search results for targeted keywords.

- The ongoing, labor-intensive process of submitting site URLs to web site directories in order to build direct traffic and links.

- Analysis, planning, implementation, and ongoing monitoring of pay-per-click advertising campaigns for Google® AdWords.

- Detailed Web site traffic statistics, reports, and graphs for tracking marketing and promotion campaigns.


What You Need To Know About Promoting Your Site
Unfortunately, too many Web site owners believe the old saying, "If you build it, they will come." They create a nice Web site, or they have one created for them, and they believe that's all there is to it. They think, "People should start to flock to my site right away. Right?" These same Web site owners soon realize that is definitely not the case.
By some estimates, there are over
20 billion individual Web pages
in Google's index alone, and according to Name Intelligence, Inc, there are over 100 million
active domain names
. In a word, these statistics translate into one thing:
competition
. Competition is rampant online, and the sooner Web site owners realize that, the sooner they can take action to separate their sites from the masses. It is definitely possible to carve out a niche in today's competitive online environment, but it takes knowledge, planning, and effective execution to deliver results.
The links above present Web site promotion services that have been tested, refined, and applied across a range of different types of Web sites. Not only do we offer these services to clients, but we apply the same procedures used in these services to promote our own business. This has allowed us to learn what works and what doesn't. For each of our Web site promotion services, we will attempt to provide the rationale behind the service, so that you can gain an understanding of why each service could be a valuable part of your online marketing mix.