Introduction
- If you want immediate placement on the search engines, plus a better measure of control over your listings' positions, you should consider pay-per-click (sponsored) listings. If you do a search on any major search engine you will see listings at the top or along the side of the page that have the notation, "Sponsored Listings" or "Sponsored Results." (See photo below.)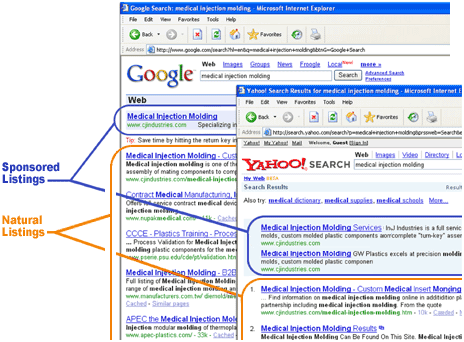 As the term implies, these listings are really paid advertisements. The way they work is based on a bidding system. You, the advertiser, bid on the search terms that you want your listings to be displayed for. The amount of your bid indicates how much you're willing to pay for a click on your link. You only pay when your listing is displayed for a particular keyword and the searcher clicks on your listing to visit your site. The highest bidder gets the first listing on the results page, the second highest bidder gets the next highest listing, and so on.
Bids can be as low as 10 cents, and go as high as 10 dollars or more for a really hot keyword, such as "mortgage." Quite often you can bid on very effective keyword phrases for 50 to 75 cents. Because bids are updated in real-time, it is important to update your bids and listings regularly.
You can set a maximum monthly budget of any amount you are comfortable spending - even if it's only $10 a month.
There are advantages to the pay-per-click system. The most obvious is that in just a day or two your website can be displayed at the top of the search engine listings. If you've invested a lot in getting your site up and running, you may not want to wait 6 months for your customers to be able to find you in the "natural" search results. Also, sponsored listings are targeted to those who are really searching for the information available on your site, unlike "banner ads," which you have no doubt seen on many sites. (A banner ad is more like a billboard. The advertiser pays to have it displayed regardless of whether viewers actually click on it.)
Google AdWords Network Reach
The Google Network consists of Google sites and partner properties that use Google AdSense to serve AdWords ads. These properties include: Search sites, content pages, newsletters, email services & discussion boards.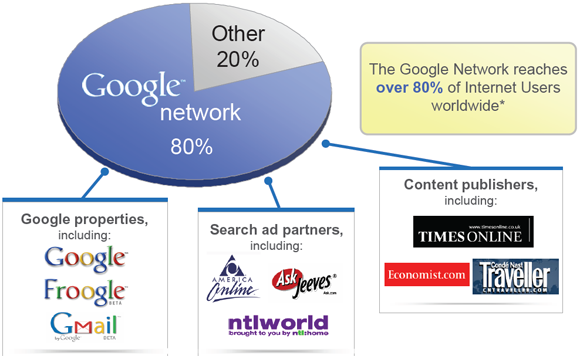 Google AdWords Benefits
Ads are seen by users searching for terms that are specific to your products or services
Pay Google only for users who click on your ad
Choose ads to display according to geographic location of searcher and / or time of day
No minimum spend
You choose your own maximum spending limit
More cost-effective than Yellow Pages, banner ads & direct mail
Google AdWords Management Services
The following search marketing management services will allow you to outsource your initial
and
ongoing bid and listing management functions, which are crucial to a well-run, successful sponsored listing campaign:
Basic market research to determine what phrases people are using to find your type of business
Google AdWords account activation
Expert assistance with Google AdWords search term selections for up to 25 terms
Descriptive writing for Google AdWords titles & descriptions
Ongoing management of Google AdWords budget and term management
Listing and bid updates and resubmissions as needed
Weekly traffic and budget report
Search Marketing Management Packages

$100.00 AdWords Advertising Credit
- Receive $100.00 credit for advertising at Google with any plan signup.
Plan
AdWords Budget
Management Fee
Setup Fee
Managed SM - A
Up to $100 per month
$19.95 per month
$0.00

---

Managed SM - B
$101 - $200 per month
$29.95 per month
$0.00

---

Managed SM - C
$201 - $300 per month
$39.95 per month
$0.00

---

Managed SM - D
$301 - $400 per month
$49.95 per month
$0.00

---

Managed SM - E
$401 - $500 per month
$59.95 per month
$0.00

---

Managed SM - F
$501 - $600 per month
$69.95 per month
$0.00

---

Managed SM - G
$601 - $700 per month
$79.95 per month
$0.00

---

Managed SM - H
$701 - $800 per month
$89.95 per month
$0.00

---

Managed SM - I
$801 - $900 per month
$99.95 per month
$0.00

---

Managed SM - J
$901 - $1,000 per month
$109.95 per month
$0.00
To start off with, a budget of up to $100.00 dollars per month to spend on Google AdWords for 3 months is recommended. You can then decide to increase or decrease spending as necessary at the end of that period. (Make sure your sales people ask where the leads come from.) There is no long-term contract for either Google AdWords or the management service. A valid Mastercard, Visa, or American Express is required to open the Google AdWords account.