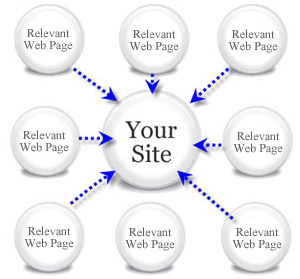 A
ll major search engines, including Google, Yahoo!, and Bing, count the number of incoming links
to
each Web page in their indexes
from
other relevant Web pages. This is known as "
link popularity
," and it plays a significant role in determining the order of results in the search engines.
To get better search engine rankings, you need to have other sites link to your site. The more sites that link to your site, in general, the better your search engine rankings will be and the more traffic you will get to your website.
"In general, webmasters can improve the rank of their sites by increasing the number of high-quality sites that link to their pages."


http://www.google.com/support/webmasters/bin/answer.py?answer=34432&topic=8524
Google, Yahoo!, and Bing consider listings within quality
directories
as valid sources of incoming links. Often mistaken for search engines, directories are actually collections of human-reviewed Web sites that have been arranged into topical categories. The largest and best example of a directory is the AOL®
Open Directory Project
. Another classic example is the
Yahoo! Directory
, which is one of the first directories that was published on the Internet. However, there are
thousands
of other directories on the Internet.
Directory listings can improve a site's link popularity score, because they can contribute to the total number of inbound links for that site, and they can provide relevant anchor text in links pointing to that site. A typical directory listing is made up of three (3) elements: the
title
, which can include anchor text with keywords relevant to the site, the
description
, which is a brief summary of the site, and the
URL
, which is the address of the Web site that is described. Because directory listings can help search engines find, crawl, and rank sites, Google actually recommended submitting to directories:
"Submit your site to relevant directories such as the Open Directory Project and Yahoo!, as well as to other industry-specific expert sites."


http://www.google.com/support/webmasters/bin/answer.py?answer=35769
With these facts in mind, we offer the following directory submission services:
500 Directory Submission Service Package - $99.00

Our team will hand submit your site to 500 high-quality directories
Your choice of ten unique anchor titles & ten unique descriptions
Completed in 14 business days
Detailed report after submission is complete
800 Directory Submission Service Package - $149.00

Our team will hand submit your site to 800 high-quality directories
Your choice of ten unique anchor titles & ten unique descriptions
Completed in 120 business days
Eight (8) submission reports
1,300 Directory Submission Service Package - $199.00

Our team will hand submit your site to 1,300 high-quality directories
Your choice of ten unique anchor titles & ten unique descriptions
Completed in 130 business days
Thirteen (13) submission reports
2,500 Directory Submission Service Package - $349.00

Our team will hand submit your site to 2,500 high-quality directories
Your choice of ten unique anchor titles & ten unique descriptions
Completed in 140 business days
Ten (10) submission reports
3,500 Directory Submission Service Package - $449.00

Our team will hand submit your site to 3,500 high-quality directories
Your choice of ten unique anchor titles & ten unique descriptions
Completed in 150 business days
Ten (10) submission reports
5,000 Directory Submission Service Package - $549.00

Our team will hand submit your site to 5,000 high-quality directories
Your choice of ten unique anchor titles & ten unique descriptions
Completed in 160 business days
Ten (10) submission reports